Recent News and Updates
Stillwater Students Help the Homeless
Lee Caldwell Featured in National Parent Worskshop
Lee Caldwell, Executive Director of Stillwater Academy was featured as a guest this week in a parenting workshop that is the first of it's kind. The Legacy Parent Worskhop, created by aftercare provider HomewardBound is designed to help parents who have had teens in treatment, and are committed to continued development of their skills as parents and improving the environment that they provide for their families. Listen to the interview
Turnabout Featured on National Radio Program
Scott Jones, Program Director for Stillwater Academy was the featured guest on Troubled Teen Help with Dore Frances, a weekly radio program on LA Talk Radio (Listen to the full interview approx. 50 min). Troubled Teen Help addresses issues such as addiction treatment for teens and adults, building self esteem, family crisis intervention, how to financially fund a residential treatment or wilderness placement, options that can be started at home before a true crisis hits, residential and wilderness treatment options, and young adult and older adult options for treatment. Read More
Utah Attorney General Addresses Troubled Teens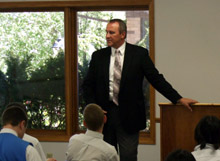 Salt Lake City, Utah –Youth at Stillwater Academy, a treatment program for troubled teens, may have felt they had nothing in common with Utah Attorney General Mark Shurtleff. But they soon discovered Shurtleff isn't a stranger to the issues many of them are facing. In his address to the teens and staff last month, Shurtleff spoke about his daughter who struggled with suicide.
"Always remember, you can hold on for one more day," said Shurtleff. "For those of you struggling with addictions, if you can get through this, you can do anything. If you can graduate from this program, you can graduate from Harvard."
Shurtleff, who has served as Utah Attorney General for eight years, encouraged the youth to stand up for what is right and remember the support they have within the Turnabout program and the community. "Look out for each other," said Shurtleff. "One person can save a life."
New York Giants Linebacker Speaks to Turnabout Students
Troubled Teen Private School Receives National Recognition
Stillwater Academy Receives NASET School of Excellence Award
Salt Lake City, Utah " Stillwater Academy, an accredited private school linked with adolescent treatment program Turnabout, has garnered national recognition as a National Association of Special Education Teachers (NASET) School of Excellence"the highest honor awarded a private special education school by NASET. Only 40 schools have been chosen as NASET Schools of Excellence for this school year. Read More
Brighter Futures Become a Reality for Troubled Teens
Stillwater Academy Students to Graduate High School
Salt Lake City, Utah – With the help of Stillwater Academy, an accredited school linked with adolescent treatment program Turnabout, nineteen students will fulfill an educational dream tomorrow that they might once have thought impossible—receiving their high school diplomas.
Read More
New Partnership Offers Unique Help to Troubled Teens and Families
Turnabout/Stillwater Academy and Homeward Bound Unite to Provide Greater Aftercare Services
Salt Lake City, Utah Research shows lasting success among teens graduating from a residential treatment program is largely based on three components: family involvement during treatment, the return to a stable home environment, and the availability of aftercare support for youth and their families. For more than twenty years, Turnabout/Stillwater Academy has been incorporating these fundamentals into its treatment program, and now in partnership with aftercare leader Homeward Bound, Turnabout will offer troubled teens and their families more comprehensive aftercare services aimed at achieving greater long-term success. Read More
Adolescent Treatment Program Helps Local Schools
Turnabout/Stillwater Academy Educates School Administrators on Healthy Communication with Students
Salt Lake City, Utah — Parents and teachers of teens are quick to agree that navigating the world of adolescence is tough on everyone, adults and teenagers alike. But Turnabout, an adolescent treatment program for troubled teens, is making communication and relationships with teens a lot easier. In partnership with Clementine Farms of Lehi, Utah, Turnabout will host a round pen demonstration for Granite School District administrators on Friday, March 28, showing the correlation between horse training and healthy relationship building with people. Read More
Turnabout Stillwater Academy: News