A System of Structure & Achievement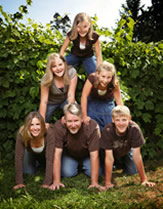 When students enter the program, "normal, everyday" privileges and "distractions" are removed. These include watching TV, listening to thier choice of music, as well as talking to friends. Some of these privileges are earned back through appropriate behavior and therapeutic progress. Natural and logical consequences that are principle based are used as teaching opportunities and to help students recognize ineffective or inappropriate behavior.
Multiple studies provide indicate that major behavioral change involves progression through 5 phases – pre-contemplation, contemplation, preparation, action and maintenance (Prochaska & DiClemente, 1986; Prochaska & DiClemente, 1992).
Each stage (Awareness, Discovery, Responsibility, Leadership and Integrity) of progress at Turnabout / Stillwater Academy is designed to help students advance through these 5 important phases of change. This approach not only helps lead to real, lasting, improvement, it also allows us to tailor therapeutic care for each student based on his or her specific needs.
Stages of Progress
Turnabout students move through each stage based on their own readiness/willingness to change and grow. Specific goals for each teen may vary considerably, depending on the student's issues. Adapting to each student's needs is part of the process our staff goes through in tailoring treatment.
The following is a brief description of each stage of change:
Safety (Pre-Contemplation)
Most students enter the program in the pre-contemplation stage of change. Students at this stage are not ready for change. In fact, they may not even be aware that they have a problem. Families, teachers, and friends however, are well aware that they have problems. Students at this stage typically feel coerced into change.
They may demonstrate change as long as the pressure is on. Once the pressure is off, however, they will quickly return to old behaviors. Resistance to recognizing or modifying a problem is the hallmark of this stage. Students entering the program are asked to demonstrate appropriate levels of trustworthy behavior.
During this stage, students write letters to their parents but will have no contact with friends. Turnabout's Parent Connection provides parents with a quick an easy way to write their students as often as they'd like. Some hallmarks of students in the Safety stage of change include:
The student is not ready for change or even aware of a need for change.
Students will typically act defensively or offer passive compliance at this stage ("I don't need to be here", "My parents are the one with the problem")
Students may feel overwhelmed by the prospect of being in a program and what it will really take to change.
Students will run through their repertoire of coping strategies such as anger, manipulation, withdrawal, etc.
Students are invited to be safe. They are expected to learn the norms/routines of the program, and learn the group process.
Students begin to identify: what behaviors have gotten them to this point, thinking errors, strengths and how to get support.
Awareness (Pre-Contemplation and Contemplation)
Discovery (Preparation)
Responsibility (Action)
Leadership (Action, Maintenance)
Integrity (Maintenance)
Turnabout Stillwater Academy: Level System